While the importance of a well-designed estate plan is generally well-understood by many of us, the basic documents within it often lack crucial details and certain clarity needed to enable it to do its job – to give you the peace of mind that all facets of your life are planned for and handled according to plan. The more thoroughly your plan is drafted, the more ease your loved ones will have knowing how to handle things without added stress from having to make any guesses.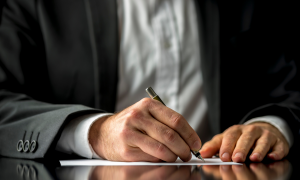 In order to go beyond the basics and empower you to provide peace of mind for your loved ones, pay attention to these important insights and resources to assist you. Each week on our blog throughout October and November, we will dive into everything in your estate plan that your Will alone does not cover.
To begin, individuals should be aware of a little something called an advanced medical care directive. This is an item you should have regardless of what age you are or in what stage of life you may be; it is a document that serves as a combination of your living will and a health care power of attorney. It is what tells your loved ones and medical professionals how you would like to be treated at the end of your life.
Living Will – details the types of medical treatments you would like or not like to have performed at the end of your life. It specifically addresses life support.
Health Care Power of Attorney (or Healthcare Proxy) – authorizes the person you designate to advocate for you and make decisions on your behalf when you cannot.
Each state has different advanced directives with their own form (or forms), some combining both the Living Will aspect and healthcare power of attorney into one form, while others leave them separate and require two forms.  There are even some states that do not recognize Living Wills at all, like Massachusetts, Michigan, and New York.
Working with professionals such as estate planning attorneys enables individuals to have some peace of mind throughout this process because the advanced medical directive is generally a part of a basic estate planning package. Regardless of whether you are seeking help from a professional, it's wise to review your estate planning documents at least every other year to see if anything has changed or should be updated.
Click here to view Florida's requirements to complete your advanced medical directive. Once you've completed it all, make sure you give the person you have designated a copy of it, whether printed or electronic.
What's Next?
We understand that planning your estate may not be a comfortable discussion, so let our Wealth Management Professionals help you to get through it in a dignified and orderly fashion.
By collaborating with our team of specialists, we are able to ensure that each of our clients receives advice tailored intricately to their unique circumstances. Wealth Managers act as the bridge between clients' financial goals and the legal intricacies, ensuring a comprehensive estate plan that can safeguard their legacy and assets for future generations. This teamwork is a testament to the holistic approach to wealth management that we utilize, which prioritizes the client's best interests and long-term financial well-being. Call our office today to start the conversation: 904.880.7878.
Important Disclosures:
The information in this article is not intended as tax, legal, investment, or retirement advice or recommendations, and it may not be relied on for the purpose of avoiding any federal tax penalties. You are encouraged to seek guidance from an independent tax or legal professional. The content is derived from sources believed to be accurate.
LPL Tracking | #451460-1