What's A Guided Wealth Portfolio?
InVest for your future with our Guided Wealth Portfolio investment platform, where you get our experience and expertise PLUS the added convenience and transparency of a 24/7 digital investing solution.
Guided Wealth Portfolio (GWP) is our digital investing solution that allows you to invest for your future by combining the personal experience and guidance of a Wealth Management Professional and the added convenience and transparency of a 24/7 online portfolio manager. Now you have the freedom to invest your way—anytime, anywhere!

Digital Investing With a Personal Touch
Our Guided Wealth Portfolio system is an investment solution for both those who are new to the investing game and who have been saving for a while. It works because we use proprietary technology to design your personalized plan to help you pursue your goals – whether you want to invest for retirement, purchase that dream car, or simply want to get some lazy cash into the market so it's not just sitting around. You'll enjoy the simplicity of online account management with one-on-one support from a Wealth Management Professional who is dedicated to you and your goals no matter what stage in the journey to financial freedom you're in.
Professional Guidance
While other digital investing solutions, or 'robo advisors,' offer online investment management, many don't include a direct personal relationship with an advisor (unless you're willing to invest substantial amounts). Here at InVestra, you don't have to be wealthy to get started – if you're 62 or younger, you can open your GWP portfolio with as little as $5,000.  By having a Guided Wealth Portfolio, investors can enjoy low management costs, tax-efficient investing, and tax-loss harvesting.
Start by Getting a Free Personalized Proposal
Step 1: Visit Getting started with Guided Wealth Management by following this link or by clicking the 'Start Now' button above. It only takes an email address to begin.
Step 2: Answer a few simple questions to tell us a little bit about yourself and how you feel about taking on risk when investing so we can determine how to set up your portfolio.
Step 3: Get a personalized portfolio that outlines our recommended investment strategies and how much you could potentially earn!
Open Your Account
Step 4: Link a current investment account or fund it with cash.
Step 5: Sign your digital enrollment documents via DocuSign, and let GWP do the rest!
Why GWP?
Lower fees than traditional advising services
Lower account minimums (just $5,000 to start)
Automatic account diversification and rebalancing
Tailored specifically to your age, risk tolerance, and portfolio size
Focused on investing: Growth Mode
24/7 online access to your account
Ideal for self starters
Want the perks of professional wealth management without the cost
Open your Guided Wealth Portfolio investment account today in just minutes, then begin investing using our intelligent market resources. Ready to get started?  Click here.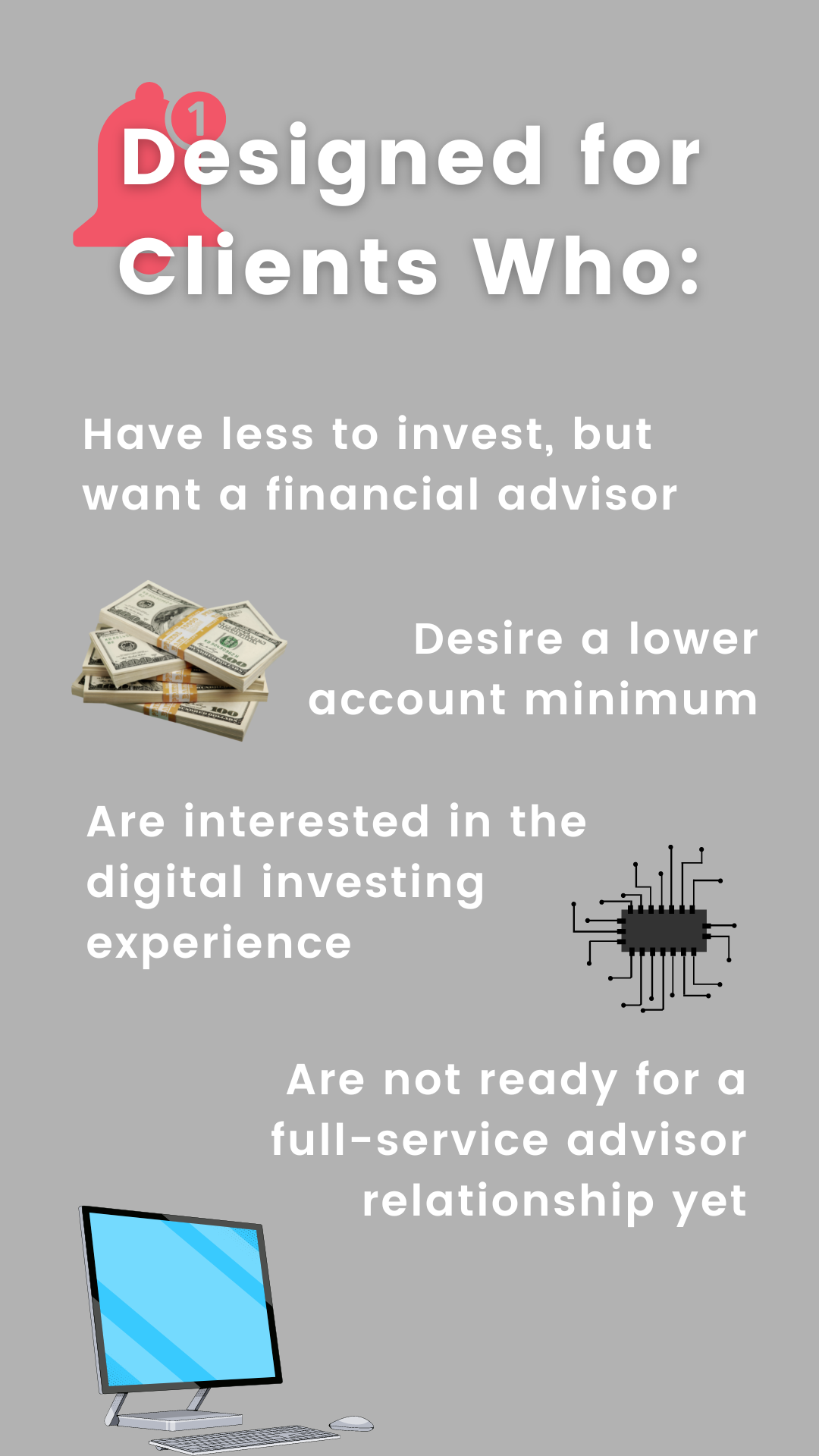 Accounts under $10,000 have a $25 annual fee.
Guided Wealth Portfolios (GWP) is a centrally managed, algorithm-based investment program sponsored by LPL Financial LLC (LPL). Guided Wealth Portfolios uses proprietary, automated computer algorithms of FutureAdvisor to generate investment recommendations based upon model portfolios constructed by LPL. FutureAdvisor and LPL are nonaffiliated entities. If you are receiving advisory services in GWP from a separately registered investment advisor firm other than LPL or FutureAdvisor, LPL and FutureAdvisor are not affiliates of such advisors. Both LPL and FutureAdvisor are investment advisors registered with the U.S. Securities and Exchange Commission, and LPL is also a member of FINRA/SIPC.
There is no assurance that Guided Wealth Portfolios are suitable for all investors or will yield positive outcomes. The purchase of certain securities will be required to effect some of the strategies. Investing involves risks including possible loss of principal. There is no guarantee that a diversified portfolio will enhance overall returns or outperform a nondiversified portfolio. Diversification and asset allocation do not protect against market risk.
References to tax strategies that the Guided Wealth Portfolios service investment management considers in managing accounts should not be confused with tax advice. LPL Financial does not provide tax advice. Clients should consult with their personal tax advisors regarding the tax consequences of investing. Rebalancing a portfolio may cause investors to incur tax liabilities and does not assure a profit or protect against a loss. This research material has been prepared by LPL Financial for the use of InVestra Financial Services.
Our Comprehensive Wealth Management Services Include:
Education Planning:
College Planning
Education IRAs
UGMA's
Financial Aid Planning
Coverdell ESAs
529 Plans
Retirement Planning:
Defined Contribution Plans
Defined Benefit Plans
Executive Compensation
Annuities
IRAs
Distribution Planning
Investment Planning:
Asset Allocation
Diversification
Risk Assessment
Tax Consequences
Portfolio Strategies
Risk Management
Financial Planning:
Asset Management
Insurance Protection
Long-Term Care
Insurance
Business Succession Plan
Cash-Flow Planning
Tax Planning
Insurance Assessment
Goals-Based Saving
Business Financial Planning
Estate Planning:
Will Planning*
Trust Planning*
Wealth Transfers*
Charitable Giving
Family Limited Partnerships*
High Net-Work Consulting
Let's begin to build a plan for prosperity