Women's History Month
As the month of March nears its end, InVestra is taking the time to highlight and reflect on many of the important contributions women have made to society in honor of Women's History Month. As part of this effort, we've created this article about a few important women in the history of finance and entrepreneurship.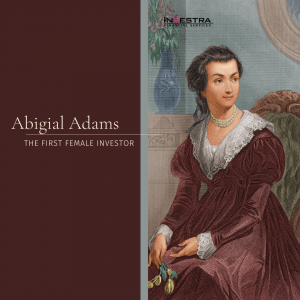 Abigail Adams, the wife of President John Adams is mostly noted for her documentation of the home front of the Revolutionary War and for her strident advocacy for women's rights in the early years of the country's founding. A little-known tidbit, though, is that she's also America's first documented female investor. Adams managed the financial affairs for the household while her husband served in the war and, later, in the White House. In 1783, her husband advised her to invest some money in farmland. She ignored the advice, buying bonds instead. The move made her family quite a bit more money in the long run!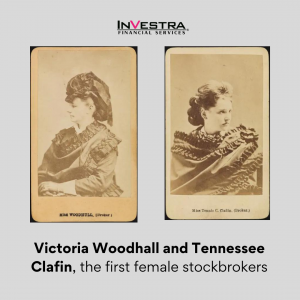 Victoria Woodhall and Tennessee Clafin were two pioneering sisters that broke the gender barrier on Wall Street; they ran the first female-owned brokerage! Despite facing blatant sexism, the two sisters made millions advising clients like Cornelius Vanderbilt. While enduring headlines such as "Wall Street Aroused," the two sisters became glaringly successful. Woodhall would go on to be a polarizing figure in the suffrage movement; she made the first recorded run for president as a woman, doing so a full 50 years before women were legally allowed to vote! While her suffrage-based platform didn't carry the election, her intellect and force of persuasion were instrumental to the passage of the 19th Amendment.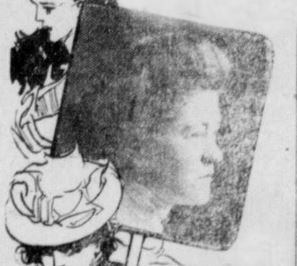 Christine Ross was the first female CPA in the US. She passed the CPA exam in 1898, but was not given her license until 1899, even though she placed in the top three scores in her testing group. She received the 143rd CPA certificate and went on to serve clients that included very wealthy women and people who worked in the business and fashion industry.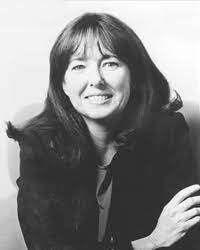 Rosemary McFadden broke a barrier in finance: she was the first woman to serve as president of any American exchange. Starting her career as a staff attorney for the New York Mercantile Exchange, she climbed the career ladder to become the first female president of that organization or any other trading exchange in American history in 1984. Despite the steep resistance she encountered as the first woman in a traditionally male position, McFadden was a strong and effective leader. When her term was up, she continued to climb toward greatness. She now serves as deputy mayor of Jersey City, New Jersey.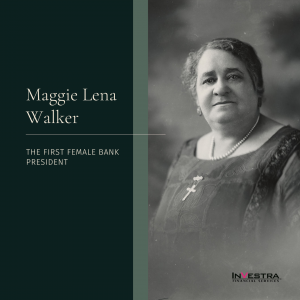 Maggie Lena Walker was the first woman to charter a bank. The St. Luke's Penny Savings Bank was a community lending institution designed to promote savings and homeownership, especially among women and racial minorities. Founded in 1902, the bank served the Richmond, Virginia area for several years before it merged with two other banks. Walker went on to serve as chair of the board for the consolidated bank. By 1920, St. Luke's had helped more than 600 people buy homes. Walker's vision and leadership set the standard for community lending institutions. Her bravery and trailblazing business spirit, at a time when women didn't yet have the right to vote, is truly commendable!
At InVestra Financial, we are honored to empower women along their journeys to financial freedom because our advisors know that as women, while our stories may differ in particulars, they are likely similar in themes. The concerns we have are universal: from retirement, education planning, childcare, and much, much more. Long before Erin Eiras, InVestra's Founder and President, became a Wealth Advisor, she knew she wanted to have the means to live life according to her own agenda and never have to rely on anyone, and so today she strives to help others do the same thing. As a young woman, she found herself in the driver's seat as she navigated the acquisition of her first home, established a career, eventually got married, and then opened her own Wealth Management Firm where she could take control of the quality of advice being offered by joining an independent broker-dealer where objective advice was celebrated. Read more about our mission for women on our site!