Giving More Than Money: How Women Are Changing Philanthropy
Women are redefining what it means to be philanthropic.
As women, many of us are philanthropists at heart—sacrificing our time, talents, and resources to support what we care about. In 2023, the idea of what a philanthropist looks like is on the verge of transformation, with women gaining financial power and becoming more charitably inclined than the men alongside them.
Women across the entire globe, regardless of income level, race, ethnicity, and age are now more likely to give—and give more. (Source: Women's Philanthropy Institute at the Indiana University Lilly Family School of Philanthropy at IUPUI.) This fact combined with the growing financial power of women presents society's opportunity to harness the power in showing up and advocating for good, says Jeannie Sager, the institute's director.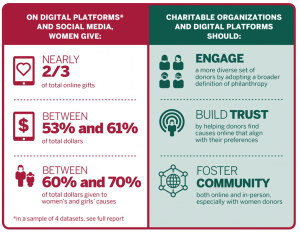 (Source: IUPUI)
"Giving for most people, men included, is a means by which to articulate your values, but it's almost even more so for women, because so much of their giving is based on empathy for others and understanding outcomes," Sager says. "[Historically], women haven't been super public about their giving, and in some ways, it had a lot to do with their relationship with money."
Everything starts with a (financial) plan
Charitable giving is a significant facet of the wealth planning process at InVestra Financial and is near and dear to the hearts of many of our clients. Some opt to sprinkle donations among multiple charities, but today (especially with women) the trend is shifting toward people wanting to make a larger impact. We work with clients by zeroing in on what causes matter most to them and helping women understand where and how they can make the biggest impact.
Throughout history, women have seldom been encouraged to discuss their plans for charitable giving. That's why Wealth Advisors at InVestra are here to develop the best solutions for the women who feel called to incorporate charitable giving into their financial plans. When it comes to financial planning, we also zero in on estate planning, retirement planning, and making plans to create generational wealth for clients' heirs.
Charitable giving looks different for everyone. InVestra works with clients to refine their plans for philanthropy. When you have a plan, you can be more impactful.
Champions of charity
Recently, 100 female alumni of Dartmouth College in New Hampshire gave $100 million to the school. When the 50th anniversary of Title IX came around in 2022, many women who used to play collegiate sports donated several million dollars to upgrade various facilities and create scholarships and coaching positions at their alma maters to give female athletes greater opportunities! Additionally, Carol Roberts, former CFO for International Paper, donated $4 million to help build a field house at Yale University, where she played field hockey and softball in the 70s.
Of course, these are big bucks, but there are smaller ways that women can lead and step up for the causes closest to their hearts. Best of all, women can do the same in building a legacy for philanthropy in their own families. One way to do that is to create a donor-advised fund that they can use to involve their children and even grandchildren to help them choose charities to receive donations."
What are women of the world doing? You can do it too!
Even if they don't make a large or public display of giving, women often view their wealth as vehicles for change. According to a survey by the Economist Intelligence Unit Co., twice as many high-net-worth women under the age of thirty-five in the U.S. cite the ability to create change through charitable giving as a top definition of wealth. The top three causes that women support today are human services, women and girls, and education, according to research conducted by the New York Women's Foundation last spring.