More than 71 million Americans will see a 3.2% increase in their Social Security benefits and Supplemental Security Income (SSI) payments in 2024. On average, Social Security retirement benefits will increase by more than $50 per month starting in January.
Federal benefit rates increase when the cost of living rises, as measured by the Department of Labor's Consumer Price Index (CPI-W). The CPI-W rises when inflation increases, leading to a higher cost of living. This change means prices for goods and services, on average, are higher. The cost-of-living adjustment (COLA) helps to offset these costs.
The Social Security Administration will mail COLA notices throughout the month of December to retirement, survivors, and disability beneficiaries, SSI recipients, and representative payees. But if you want to know your new benefit amount sooner, you can securely obtain your Social Security COLA notice online using the Message Center in your personal account. You can access this information in early December, prior to receiving the mailed notice – benefit amounts won't be available before December. Since you will receive the COLA notice online or in the mail, you don't need to contact us to get your new benefit amount.
"Social Security and SSI benefits will increase in 2024, and this will help millions of people keep up with expenses," said Kilolo Kijakazi, Acting Commissioner of Social Security.
January 2024 marks when other changes will happen based on the increase in the national average wage index. For example, the maximum amount of earnings subject to Social Security payroll tax in 2024 will be higher. The retirement earnings test exempt amount will also change in 2024.
Do I have to be receiving Social Security benefits in order to receive the COLA?
No, you don't have to be receiving Social Security benefits in order to receive the COLA. You're eligible for a cost of living benefit increase starting with the year you turn age 62. This is true even if you don't receive benefits until your Full Retirement Age, or even age 70.* The Social Security Administration (SSA) adds the cost of living increases to your benefit beginning with the year you reach 62. Benefits are adjusted yearly to reflect the increase, if any, in the cost of living as measured by the Consumer Price Index.
Do I have to contact Social Security to get the COLA?
COLA is automatic and does not require activation. Recent reports indicate that criminals are trying to trick people into sharing personal and financial information over the phone or through deceptive text and email messages that lure people to a fake Social Security website, so STAY VIGILANT! Generally, SSA mainly contacts people who have recently applied for a Social Security benefit, someone who is already receiving payments and requires an update to their records or has requested a phone call from the agency. If a person isn't in one of these situations, they normally wouldn't receive a call from the agency.
How much will the COLA amount be for 2024 and when will I receive it?
How much is the increase: Social Security benefits and Supplemental Security Income (SSI) payments for more than 71 million Americans will increase by 3.2% in 2024. This is the annual cost-of-living adjustment (COLA). By law, federal benefits increase when the cost of living rises, as measured by the Department of Labor's Consumer Price Index for Urban Wage Earners and Clerical Workers.
When the increase takes effect: The increase will begin with benefits that Social Security beneficiaries receive in January 2024. Increased SSI payments will begin with the December 29, 2023 payment.
When your notice will arrive in the mail: COLA notices will be mailed out throughout the entire month of December.  However, you need not wait for your mailed notice to learn your new benefit amount for 2024: you can view it online with your personal my Social Security account starting in early December.
Why did my Social Security deposit go down even though there was a COLA?
If you have higher income, you'll pay an additional premium amount for Medicare Part B and Medicare prescription drug coverage. The SSA calls the additional amount the "income-related monthly adjustment amount." If you're a higher-income beneficiary, this amount is deducted from your monthly Social Security payments regardless of how you usually pay your monthly prescription plan premiums. For more information, please visit www.ssa.gov/benefits/medicare/medicare-premiums.html
What are some numbers that were updated?
Social Security Cost-Of-Living Adjustments
Below is a list of COLAs by the year the COLA was announced. If you are receiving Social Security benefits, a COLA is effective starting with your December benefits that are paid in January. Since 1983, COLA changes take effect the next January.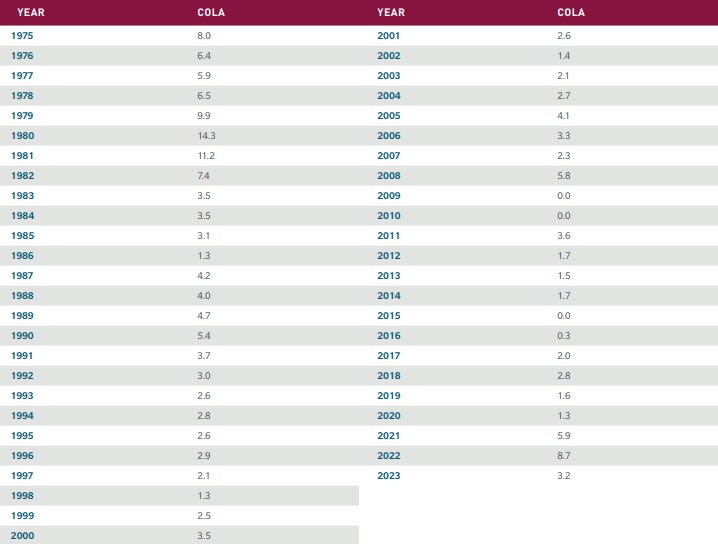 Important Disclosures:
InVestra does not provide tax or legal advice. Clients of InVestra should obtain their own independent tax and legal advice based on their particular circumstances. Please contact the Social Security Administration at 1-800-772-1213 or go to ssa.gov for more information.